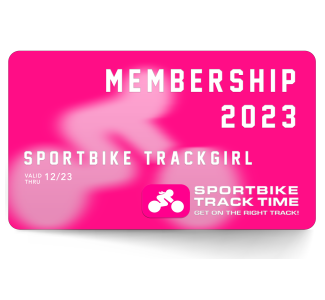 Sportbike Track Girl 2023 Membership


DETAILS
This membership is for ladies only! Sorry guys! Members must be female to qualify for this membership.

STGirl Memberships are sold in place of the Standard Membership; riders do not need to purchase both.
STGirl members will benefit the same as our standard membership, plus HUGE additional discounts on each track day! Additional savings vary by track but range from $20-$40 PER DAY!
Female Military may choose to purchase either a Sportbike Track Girl membership or a Military membership; there are no additional savings for being a female military member.
PURCHASE YOUR MEMBERSHIP FIRST: In order to purchase track time at the member rate, you must first purchase a membership and check out separately for the site to reflect your member pricing!
MEMBERSHIP IS NOT REQUIRED. While Sportbike Track Time does not require a membership to register for track time, our membership has a LOAD of perks!
MEMBERSHIP BENEFITS & TERMS
Discounted Track Time & Bundle Pricing
Save $15 - $45 PER DAY on track time!

Ability to buy your weekend in a bundle and save an additional $10 - $15 on the event
Save $10.00 per day on the Late Sign Up registration surcharge (14 days or less prior to the event)
Mechanical Credits: Tip-Over/Breakdown Insurance
Receive credit towards another track day purchase if your riding is cut short due to a crash or mechanical issue considered to be unrepairable!
TRACKSIDE: Report your issue to the Event Director immediately; Mechanical credits are ONLY issued by event directors.
POST EVENT: Contact the STT Office at info@sportbiketracktime.com to redeem your credit before the expiration date.
All credits expire 6 months from the event date at which the credit was issued.
Credits cannot be transferred or refunded.
To be eligible, you must be pre-registered, present at the event, and your motorcycle must have passed tech inspection.
This is a members-only policy. If you are not a member, please do not ask for this treatment; simply be a member!
Buy/Sell/Transfer Privileges
Recoup cost of track time by selling to another member if you have passed the cancellation window
Purchase track time at a sold out event from another member who cannot attend
Transfer track time to a buddy for any reason you wish
Track time does not change skill levels; recipient must have attained the skill level being transferred and must agree to ride within the guidelines of the skill group
These transactions can only occur between STT members and must be requested in writing 48 hours prior to the event start (for weekend events, that would be Thursday at 7 a.m. EST, regardless of which day is being transferred)
In your email to the STT Administration team, please include the following:

your name
your order number
track name and date of track time being transferred
buyer's name
buyer's email
NEW! Extended Cancellation Period
Need to cancel? Members now have extra time and can cancel registrations in exchange for STT credit up to 10 days prior to the event! As always, email us at info@sportbiketracktime.com regarding cancellations and credit redemption.

Newbie Credit

Refer a rider who has never ridden with STT and get a $20.00 credit! Simply tell the new rider to add "Referred by" and your name to their order details when purchasing track time. Email STT Admin Staff at info@sportbiketracktime.com to claim your credit.
Limit one Newbie Credit for each new rider on their first track day only; no multiple credits for a weekend.
New! Other Special Offers
A variety of special offers throughout the season available to members only, including members-only special pricing for certain events! Sign up for our newsletter to be the first to know about these special offers!
Loyalty Cards
Members have the privilege of saving big with the purchase of a Loyalty Card!
10% off all Apex Manufacturing products
STS Discount:
The best selection and the best prices on Michelin and Dunlop Track and Performance Tires available anywhere.
**Free** mounting and balancing for your tires when you buy your tires trackside.
NEW! No processing fees on refunds:
Members receive full refunds when canceling 30+ day prior to the event; no 15% credit card processing fee!

T-Shirts (subject to availability)
Members receive $5 off t-shirt purchases trackside!
Expiration
Memberships are valid for the calendar year and expire on 12/31 or the day after the final event of the year, whichever occurs first.
Membership Responsibilities

STT Standard, Military, and STGirl members are required to read and abide by all the policies and procedures outlined in this web site; it is each member's responsibility to know the rules and regulations.

If you are unclear on anything, please ask and we will be happy to provide you with clarification or any further information about any of our activities, policies or procedures.
Stock:

In Stock

Product Code:

MemberSTGirl23